What is the best photo? The fifth part of the survey results on personal branding for artists.

If you're into Instagram, then it's natural that you try to figure out which visual styles you can use to attract your fans and followers. That's why we selected some photos from a real account (many thanks to Federica Rubartelli for sharing the photos).
The photos can be sorted into the following categories:
Category 1, the artist at work: number 1 (work unrelated to music), number 8 (the artist in the studio with a colleague), number 9 (the artist at home in the creative process), number 16 (the artist during a DJ session).
Category 2, snapshots of the artist: number 10 (a rather spontaneous, very positive photo), number 15 (a rather professional photo from a photo shoot)
Category 3, photos directly related to the artist's work: number 6 (a reference to a podcast), number 13 (a reference to an event of the artist)
Category 4, a photo of the artist with acquaintances/friends.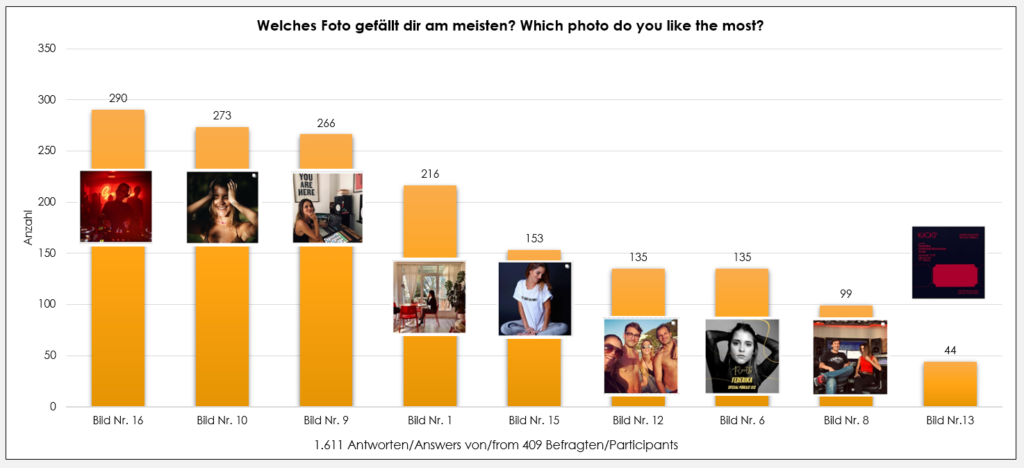 Now to the results (bigger photos please see at the end of the article). In the questionnaire there were 2 different questions dealing with these photos. This week we'll take a closer look at the results of the 1st question "which photo do you like the most?". For those who have read the previous posts, there are few surprises. Number 16, number 9 and number 1 land on the 1st, 3rd and 4th place. It is directly recognizable in these 3 photos what the artist is doing or it tends to look like work. Herewith also again the consistent confirmation that the work is in the foreground.
Interesting, however, the placement of the image number 8 in penultimate place. This can be explained by the fact that it is not immediately apparent to every viewer that the artist is in a studio. This is most likely only recognizable to experts.
Also no surprise is the cut off of number 10 and number 15, whereby the natural-spontaneous character of the 1st photo was probably the decisive factor for it landing in 2nd place, while the other photo only landed in 5th place.
On the other hand, the placement of the podcast (number 6) and the announcement of the event (number 13) was interesting. Whereby I believe that fans of the artist react quite positively to these announcements.
On the other hand, the photo of the social event only landed on number 6, which was a surprise for me personally, because I would have thought that this would rather land on one of the front places.
That's it for today. There will be more next week.
Stay tuned
More about Personal Branding…